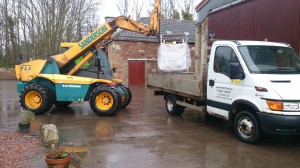 Delivery is free locally (approximately 12 mile radius from Pittenweem.)  This covers most of the East Neuk from St. Andrews to Cupar, Leven, eastwards.
We do however offer free delivery on orders over £100 (excluding VAT) to areas further afield, or if you can get friends or neighbours to combine orders.  We recently delivered free of charge as far as Dunfermline to the west and Carnoustie to the north, so please call for a quote.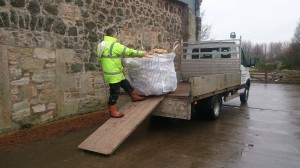 All bulk bags are delivered on the back of a pick-up truck, and will therefore require vehicular access to the drop off point.  The bags are slid down a ramp onto the ground, but are too heavy to be moved further.  The customer is responsible for any onward transport.
The ramp can be placed to slide bags into an open garage or shed.
For customers with difficult access areas, we supply logs in barrow bags that can be delivered up any path to your door or shed on a sack barrow.