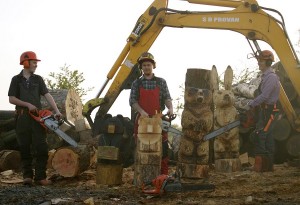 UPDATE NOVEMBER 2016:  ALL CARVING HAS CEASED UNTIL FURTHER NOTICE DUE TO THE INCREASE IN DEMAND FOR FORESTRY & FIREWOOD CONTRACTS.  WE APOLOGISE FOR ANY INCONVENIENCE!
Our chainsaw carved figures are made from Douglas Fir Logs.  This came about because of a delivery of over sized timber that would not fit through our log processor.  After watching many chainsaw carving demonstrations at forestry shows; and having seen numerous carving in Alaska (whilst visiting family) we decided to try and turn this load of timber into something better than logs!  The best of recycling!
We are able to personalise our chainsaw carvings to include a sign, small flower box, or birdfeeder making this an ideal gift for family, friends, a wedding gift or a unique ornament for the garden or front door.
Please see our gallery for a selection of pictures including our most recent additions – a puffin and a hen.
We recently received a request from Kellie Castle (National Trust for Scotland) to carve bunnies and chicks for the Easter weekend.  Our chainsaw carved bears have joined the bunnies and chicks on display throughout the gardens at Kellie Castle.
Please note that as our chainsaw carvings are made from round logs they will crack and split over time, similar to oak beams.